News & Events
The Department of Urban Studies and Planning is always evolving. From the accomplishments of our students and alumni to the research efforts of faculty, we want to keep the USP community informed. Check back often for information on events and other opportunities.
---
Upcoming and Recent Events
10/9 USP Department Fall 2023 Mixer
USP Faculty, Students, and Staff are invited to mix and mingle and enjoy free food and refreshments at the department's Fall 2023 mixer.
Free food!
Meet other USP and RED majors and minors!
Meet USP Department faculty and staff!
Win prizes!
Monday 10/9 11:30am-1:30pm at Dirty Bird's back patio (Price Center)
Please RSVP by Mon 10/2 at noon

 

https://bit.ly/FA23MIXER
Note: This event is open to declared current USP & RED majors & minors.
---
10/4 USP Department Student Organizations Meet & Greet Open House
Learn more about these student organizations and how you can get involved!
Architecture@UCSD

Student Representatives

Triton Real Estate Organization (TREO)

Urban Changemakers

Young Planners Society (YPS)
Wednesday 10/4 11:30am-12:30pm, USP Studio (RWAC 0104)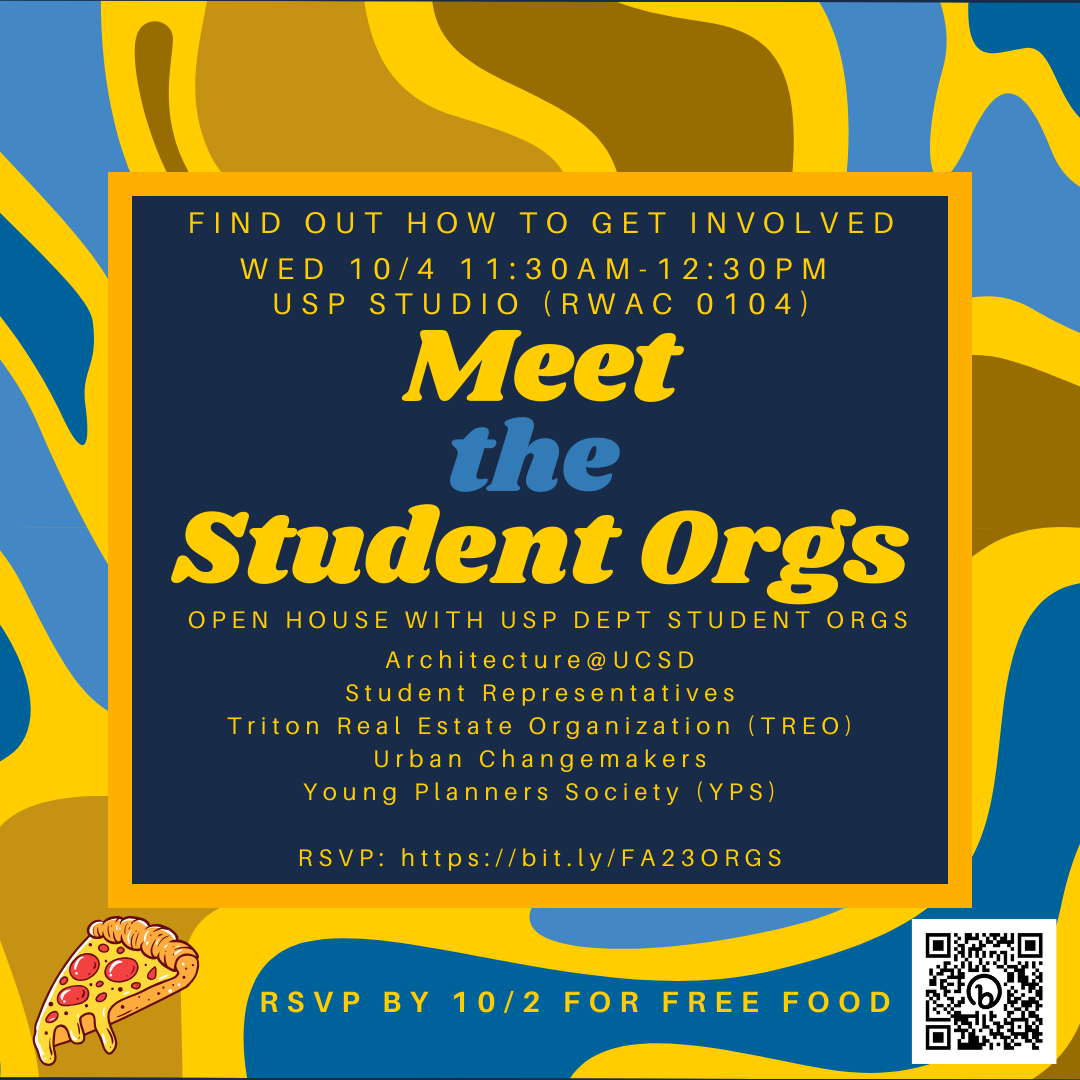 ---
9/27 USP Department New Student Orientation and Meet & Greet
This orientation is geared towards all new incoming USP and RED majors.  This part two of orientation assumes incoming students have already completed their online USP department orientation in Canvas.  It will consist of a presentation, Q&A session, and meet & greet with faculty, staff, and student org leaders.  RSVP in advance.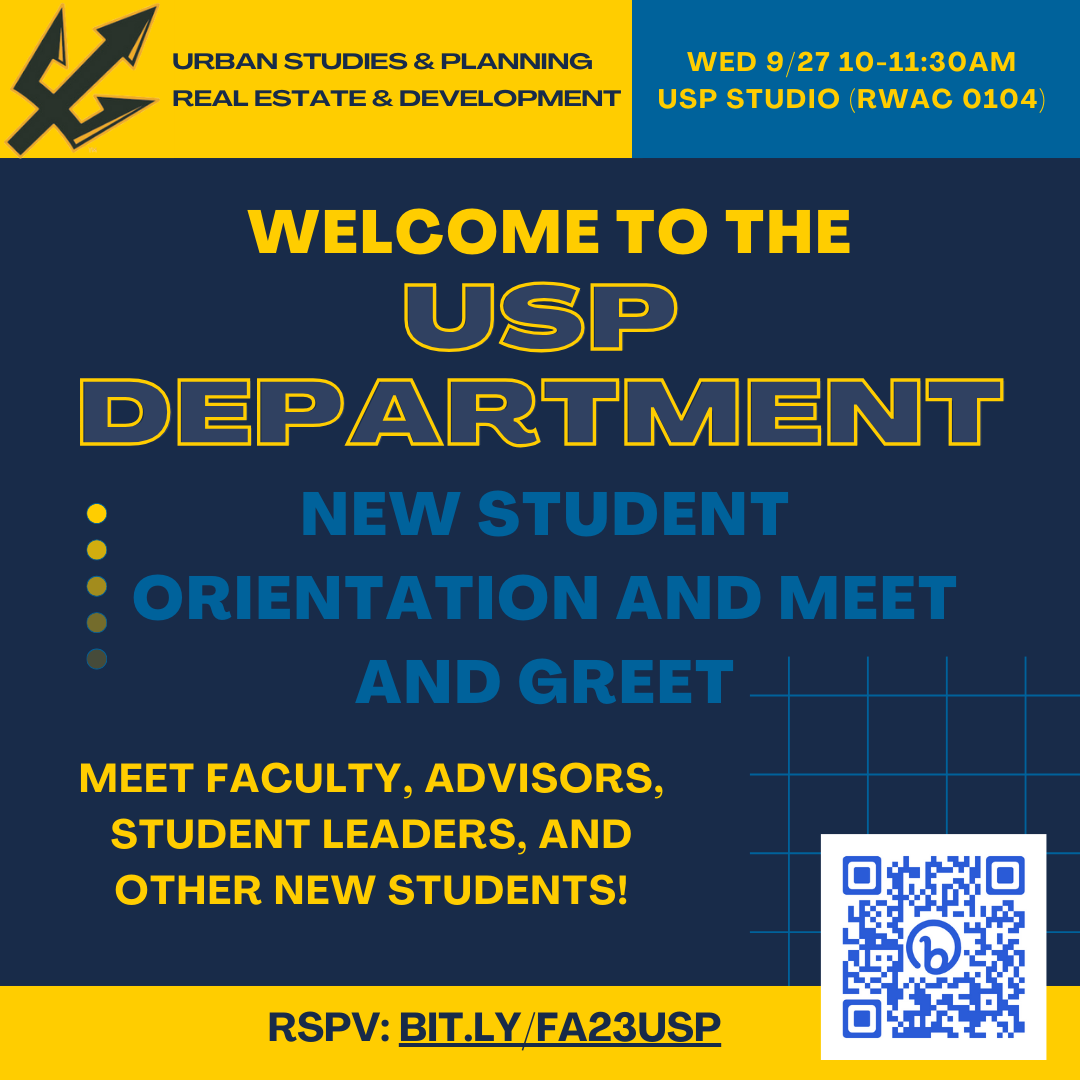 ---
7/13 

Triton

 

Real

 

Estate

 

Alumni

 

Assoc

. Social
The Triton Real Estate Alumni Association is hosting a social at Harland Brewing Del Mar on Thursday, July 13th. Please join us to reconnect with and meet new fellow UC San Diego alumni working in real estate! We would also like to congratulate and welcome recent Triton graduates!
RSVP link:  bit.ly/TREAAJULY13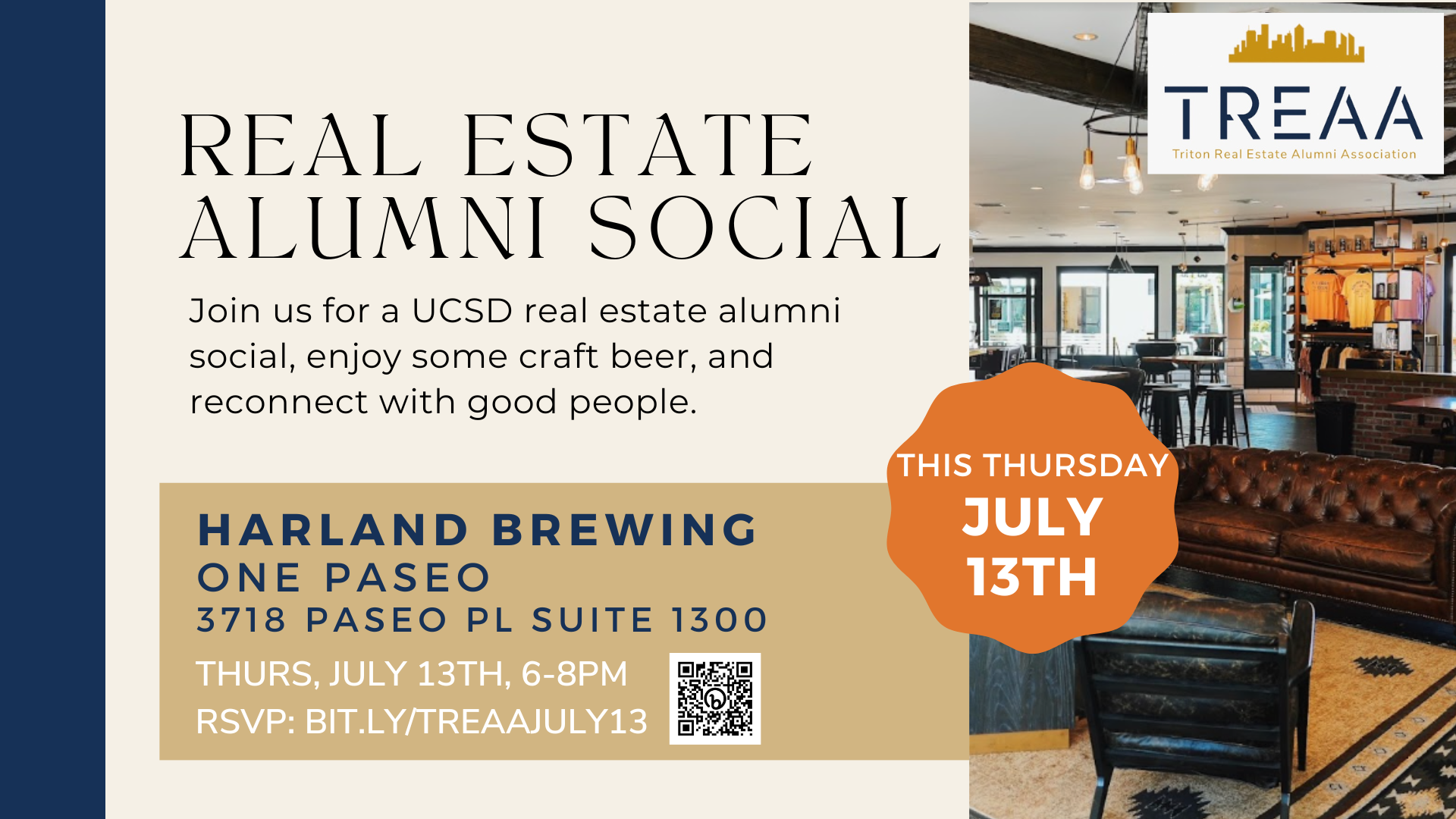 The

 

Triton

 

Real

 

Estate

 

Alumni

 

Association's mission is to create a space for UC San Diego

 

alumni

 

who work in the

 

real

 

estate

 

industry to connect with fellow

 

alumni

. We will periodically hold in-person events, the details of which will be posted via the TREAA LinkedIn page which you are encouraged to follow. The organization is run by UCSD

 

alumni

 

who volunteer their time to create this intentional community.
Want to receive email notifications regarding TREAA events? Sign up using this form.
Do you have an interesting article, opinion, or

 

real

 

estate

 

venture you would like to share with fellow UC San Diego

 

Real

 

Estate

 

Alumni

? Visit the TREAA LinkedIn Group, a forum for

 

alumni

 

to begin

 

real

 

estate

 

discourse. 
Interested in volunteering for TREAA? Email Jonathan Chan jjc127@ucsd.edu.
---
 7/10 Summer Resume & Internship/Job Search Workshop
Online workshop to be held via Zoom on Monday, July 10th 11am-1pm presented by USP's Director of Industry Relations and Student Professional Development Jennifer Eller. This workshop is offered once per quarter.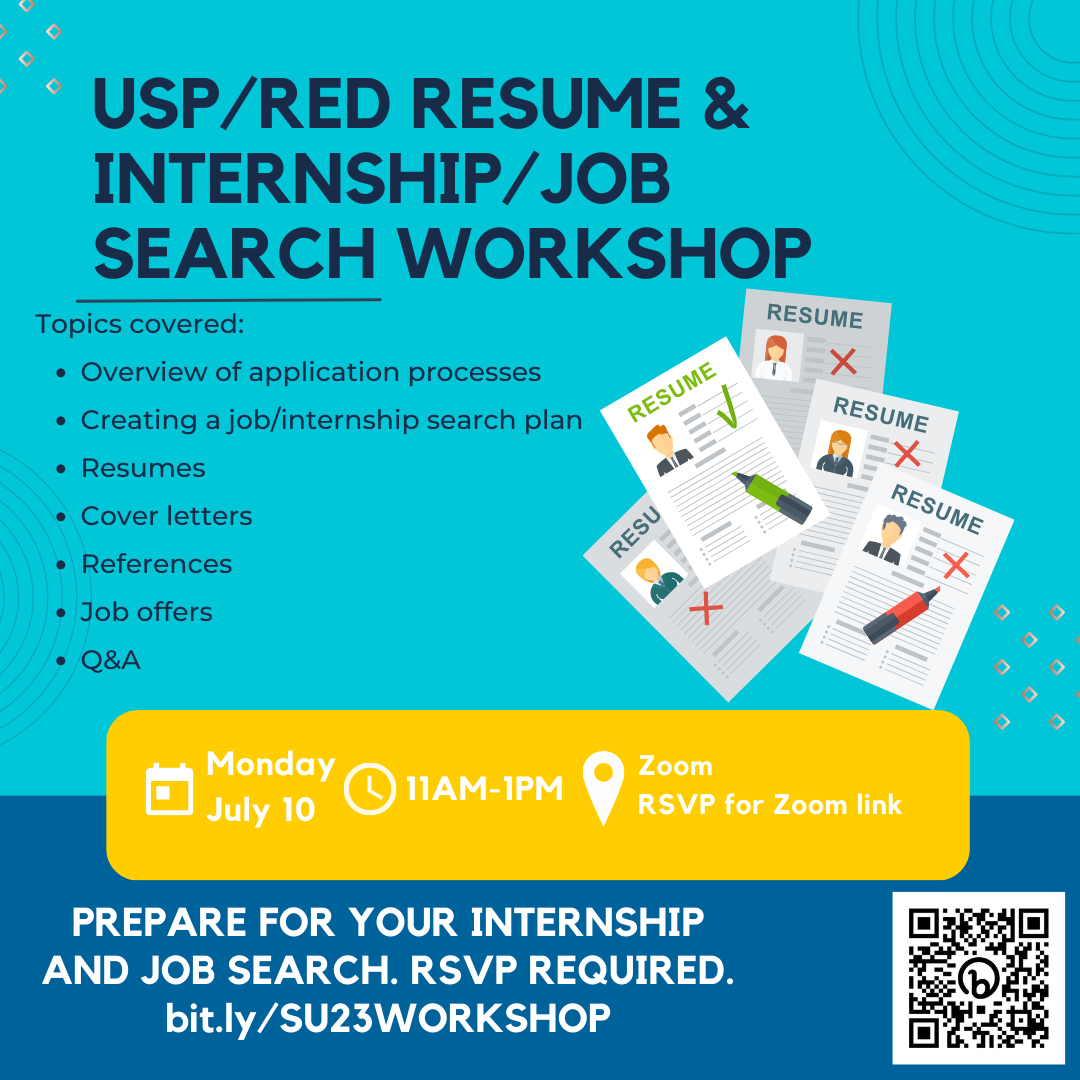 ---
6/3 Young Planners Society Affordable Housing Tour
Join YPS and Professor Mirle Bussell on a guided tour of San Diego's affordable housing developments.  
Saturday, June 3rd 9am-2pm
As the lecturer for USP 142: Homelessness in San Diego and a researcher at the Homelessness Hub, Professor Bussell is the person to speak with if you have any questions about affordable housing or just want to learn more about policies surrounding it.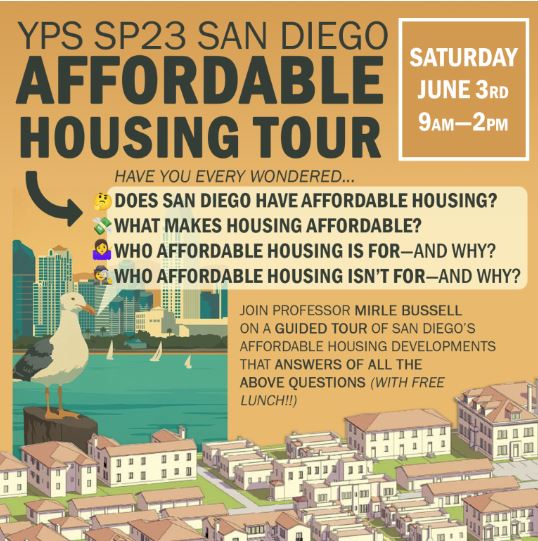 ---
5/25 Wise Elder Changemaker Awards and Panel
The "Wise Elder" Changemaker Award celebrates the life work and current accomplishments of exceptional San Diegans who are 65 years or older. The UCSD Life Course Scholars program welcomes nominations of individuals who have had a significant impact on people, land, communities, and movements for justice, equity, sustainability, health, healing, and inclusion across our region. Their change-making work may be through the arts, advocacy, activism, organizing, cultivation, care and repair, bridge-building, paradigm-shifting, community healing, wisdom-sharing, and (re)connection with cultural traditions and the living world around us.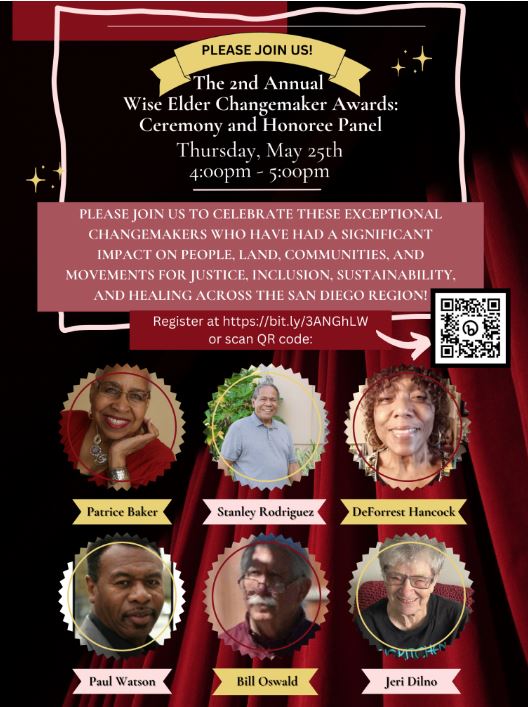 ---
5/20 Block Party at Ocean View Growing Grounds
All-ages, All-welcome Festival aimed at building community climate resilience through bringing people together to have fun, play games, eat, learn, converse, and enjoy the beautiful setting together at Ocean View Growing Grounds in the Mountain View Neighborhood in southeast San Diego.
This event is a collaboration between the UCSD Climate Justice/Action/Resilience Scholars Program and the Youth Environmental Justice Advocates Academy run by the Global Action Research Center.
Learn more here: https://ucsdclimatejusticescholars.weebly.com
 
---
5/19 Triton Alumni Career Chat with RED Alum Jonathan Chan of London Moeder Advisors
Alumni Career Chats are an opportunity to hear from a Triton alum about their career trajectory, advice for students exploring career options, and ask them questions.  Light snacks will be provided.
Friday, May 19th 2-3PM, Social Science Public Engagement Building USP Studio (RWAC 0104)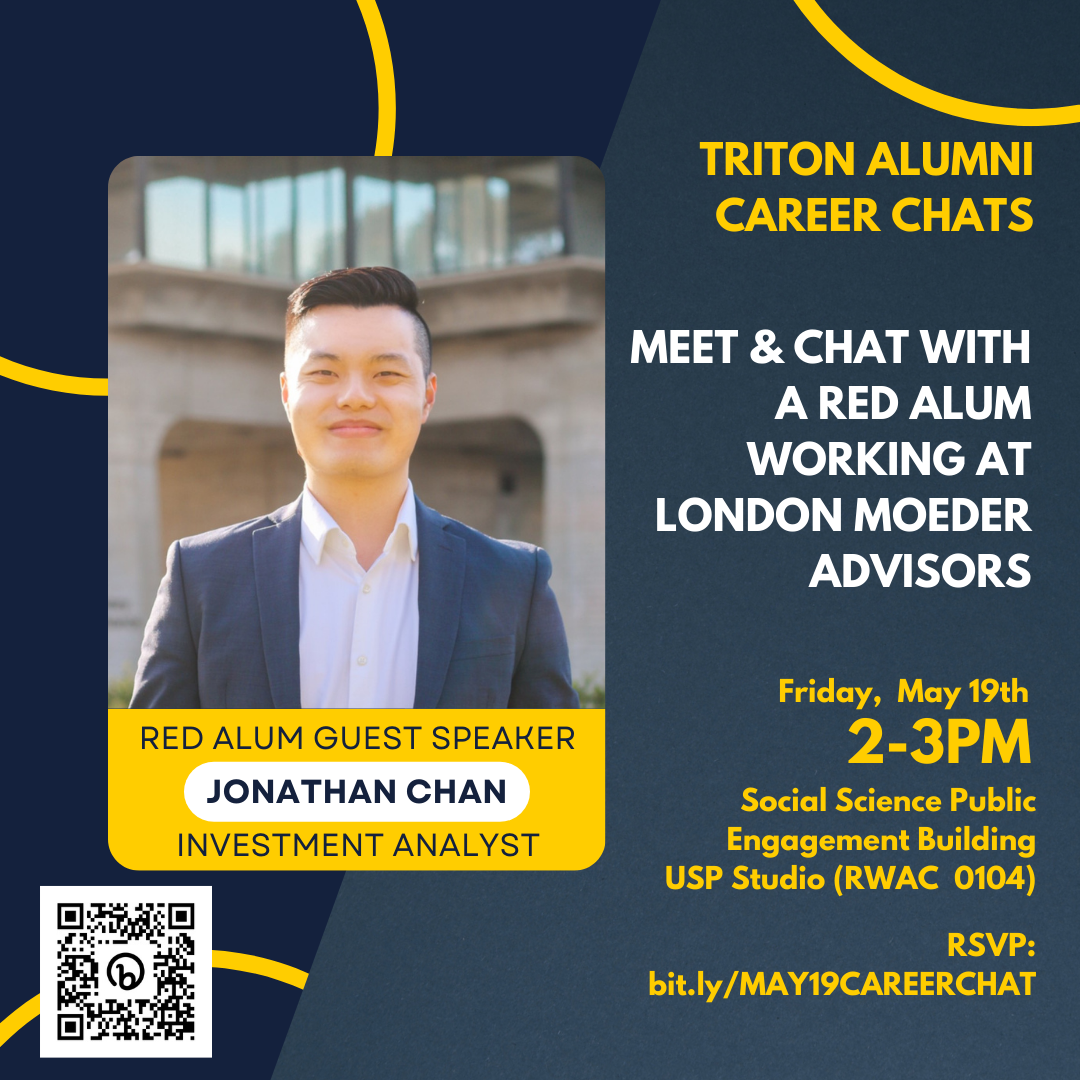 ---
5/19 Young Planners Sociaty Speaker Series: San Diego Councilmember Kent Lee
Interested in working in the public sector, policy-making, community outreach, or advocacy? Come chat with Councilmember Kent Lee, who represents the University City, Mira Mesa, and Convoy areas of San Diego City.
Friday 5/19 1-2pm RWAC Social Sciences Public Engagement Building 4th Floor Conference Room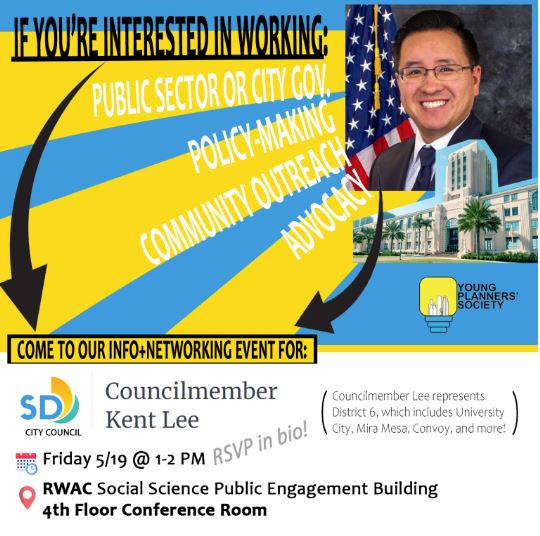 ---
5/18 Community Engaged Research Panel
Join community advocates and academic scholars as they share their experiences undertaking collaborative, community engaged research. This event is specifically promoting best practices and getting started with community-based research. All are invited who are interested. We are especially interested in early career scholars including students.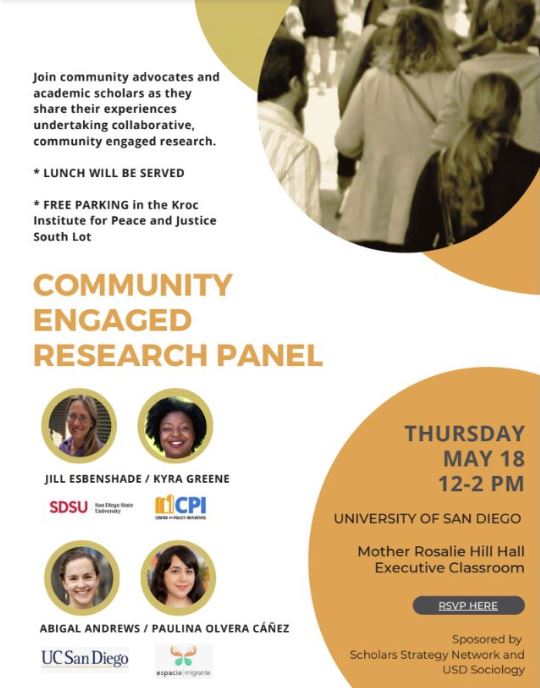 ---
5/18 Regional Regional Real Estate Alumni Event
We are excited to bring back this annual tradition of gathering real estate alumni from SDSU, UCSD, and USD for an evening of building relationships.

When: Thursday May 18th 5-7pm
Where: Cushman & Wakefield's One Paseo Office (12830 El Camino Real, Suite 100, San DIego, 92130)
Light refreshments will be provided.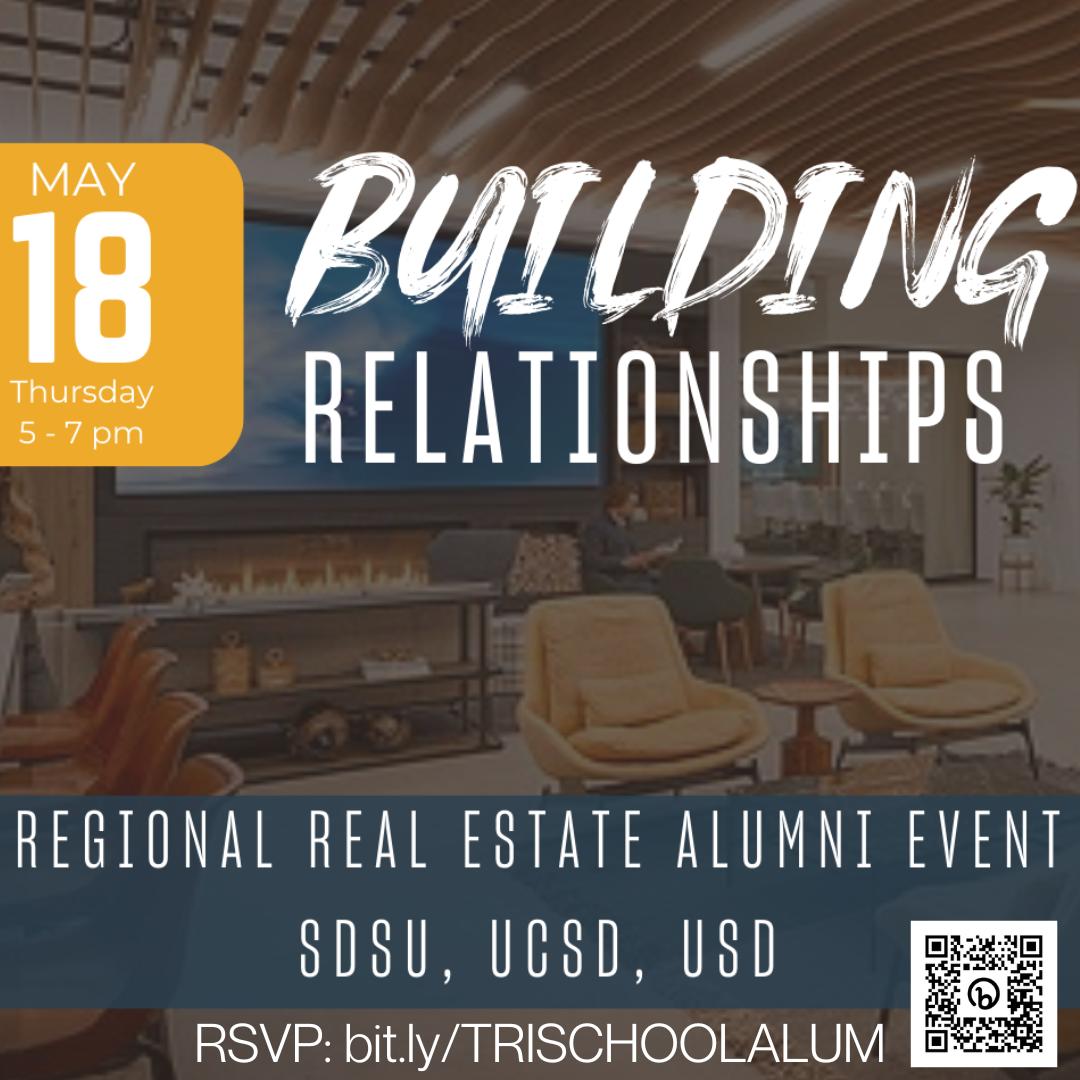 ---
5/12 Triton Alumni Career Chat with UCSD Alum Jamal Russell Black
Meet & Chat with a UCSD Alum working on viable solutions to the climate crisis that incorporate the tenets of environmental justice and closing the equity gap.
Friday, May 12th Noon-1PM, Social Science Public Engagement Building 4th Floor Conference Room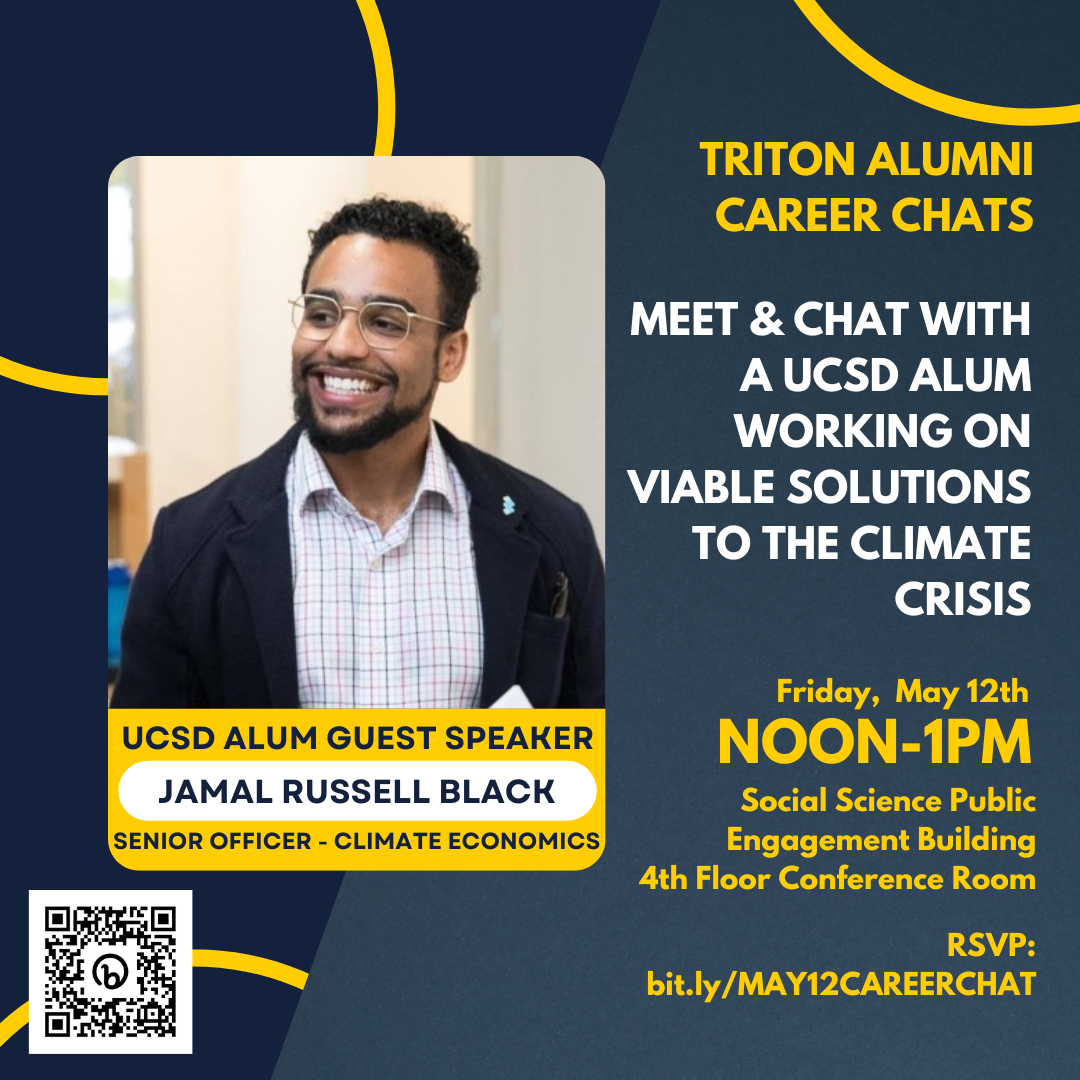 ---
5/4 Triton Real Estate Org Guest Speaker: PGIM Real Estate Executive Director Stephen Shaw
Join TREO on Thursday, 5/4, for a guest speaker event! Stephen Shaw is an Executive Director with PGIM Real Estate. In this role, he is responsible for originating loans for the company's general account, agency, and bridge/high-yield products in Washington, D.C., Virginia, and Maryland.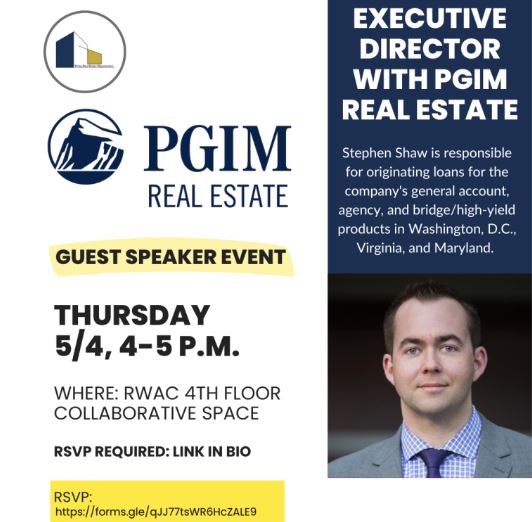 ---
5/10 USP Department Student Town Hall
The USP Department would like to hear your feedback and comments about the USP and RED programs and student experience in the USP Department.  Come share your comments with faculty and staff.  There will also be time for students to share feedback with USP Student Reps without faculty and staff present. Pizza lunch provided.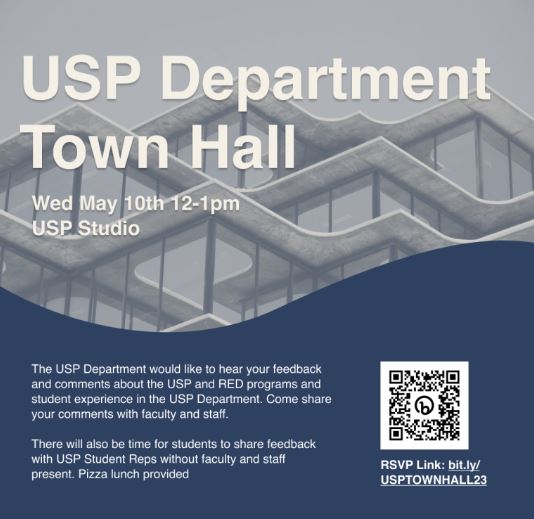 ---
5/4 Annual NAIOP University Challenge
Student teams from UCSD, SDSU, and USD will compete head-to-head in a real estate competition on the highest and best use for the proposed redevelopment. Potential issues to be addressed may include financing, transit-oriented issues, sustainable development, traffic patterns, community impact, and feasibility.
You're invited to witness the innovation, the inspiration, and the suspense of the number one head-to-head challenge in the nation. Come see the next generation of Real Estate leaders show us what they can do!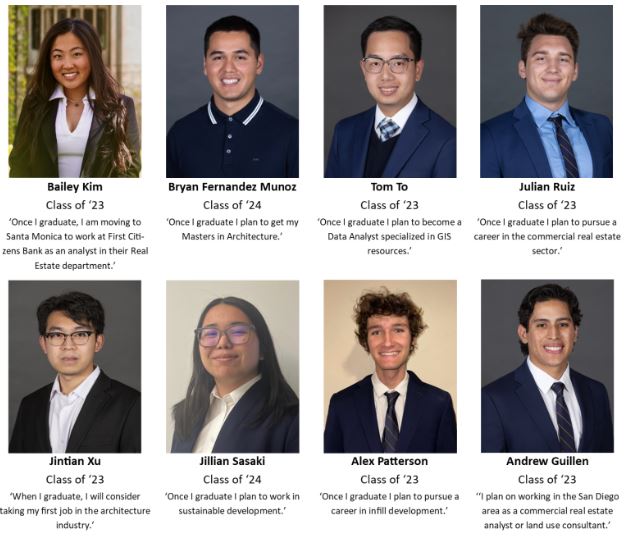 ---
4/26 Global South Faculty Roundtable
International House and Global South Studies are hosting a Global South Faculty Roundtable with faculty hosts Dr. Kelema Lee Moses and Dr. Matilde Córdoba Azcárate to have a conversation about the stories, concerns, and issues of Global South communities, and learn about their experiences in global research. 
Wednesday, April 26th from 5:00pm-6:30pm at the UCSD Faculty Club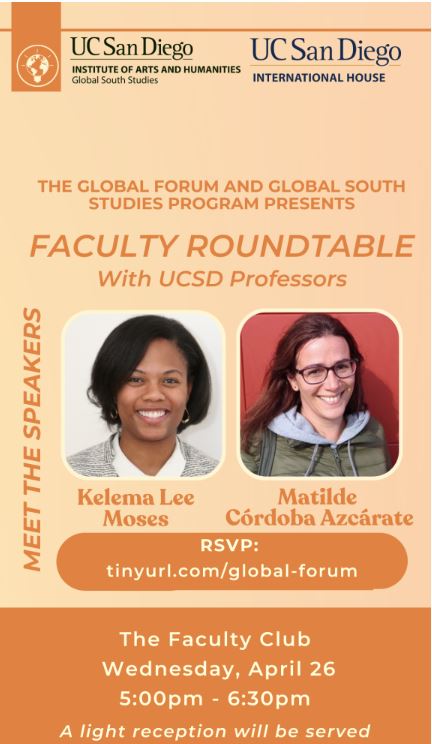 ---
4/17 Connecting Paradise Screening, Panel Discussion, & Networking Mixer
Join us for a screening of the film Connecting Paradise and panel discussion featuring Brian Mooney, Diego Velasco, William Anderson, and Howard Blackson followed by a networking mixer.
Connecting Paradise explores San Diego's historic visions by examining public planning strategies beginning in 1908 through today's ambitious plans for the 21st Century. The film explores the issues of leadership and diversity and the role they played on San Diego's development.
Hosted by UCSD Dept. of Urban Studies and Planning, San Diego American Planning Association's Young and Emerging Planners (YEP) Committee, and the Urban Land Institute San Diego/Tijuana.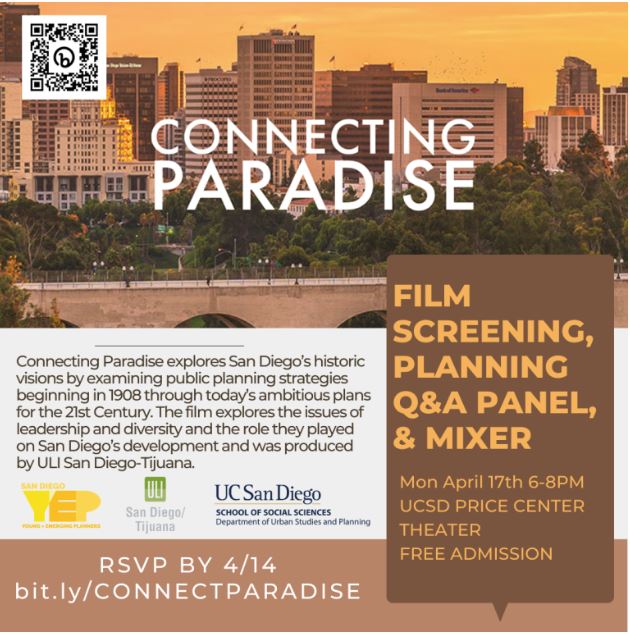 ---
4/13 Real Estate Convening
The real estate student Organizations of UCSD (Triton Real Estate Organization), SDSU (Real Estate Society), and USD (USD Real Estate Society) are pleased to host a regional professional development and networking event on Thursday, April 13th from 5-7:00 PM at Snapdragon Stadium.
This is aimed at all Real Estate professionals, recent alumni, and current students of all three universities. Light refreshments and food will be provided. Free for students.