About the USP Program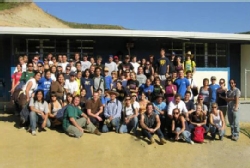 Founded in the 1970s, the Urban Studies & Planning (USP) Program is one of the leading interdisciplinary undergraduate programs at UC San Diego. 
It currently has 33 regular and affiliated faculty members representing a variety of backgrounds, approaches, and disciplines. 
The USP Program is widely acknowledged to be one of the best in the nation, based upon the caliber of its faculty and graduates as well as its comprehensive set of courses and rigorous requirements. An external Steering Committee, comprised of community leaders and alumni, provides guidance on program development.
USP draws from the various social science disciplines as well as arts and humanities and the natural sciences. The curriculum focuses upon regional planning and policy issues, particularly in the San Diego/Tijuana cross border region, and encourages students to think creatively and holistically across academic divides. Areas of concentration include Urban/Regional Policy and Planning; Urban Design/Built Environment; Health, Social Services and Education; Urban Diversity; and Cities in Historical and Comparative Perspectives.
The USP major provides students with a solid liberal arts background as well as the analytical and technical skills needed for successful graduate study and professional work in a number of fields. USP graduates have gone on to the nation's leading graduate and professional schools and to illustrative careers. USP majors pursue graduate study in planning, public policy, law, architecture, public administration, medicine, and public health. Many students find employment opportunities through their internship placement.
Read more about the USP Undergraduate Program, which offers both a Major and a Minor in Urban Studies & Planning.