The Urban Studies & Planning Major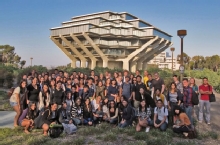 A bachelor of arts degree in Urban Studies and Planning (USP) will be given to students who satisfactorily complete the general-education requirements of Revelle, Muir, Marshall, Warren, Roosevelt, or Sixth College in addition to the urban studies and planning courses. 
The undergraduate program in Urban Studies and Planning requires a three-quarter lower-division sequence in urban studies; USP 1, USP 2, USP 3, and POLI 30 Political Inquiry; and twelve upper-division courses that serve the Urban Studies and Planning major.
Students are encouraged to complete the lower-division courses before they enroll in the upper-division courses. Completing the USP major is flexible. Courses can be taken in different academic years, except the one (1) required Research Methods Course must be taken junior year, and the senior sequence should be taken the last consecutive fall and winter quarter enrolled.
Lower-division and upper-division requirements must be taken for a letter grade, and graded C- or higher to count toward the major. A 2.0 grade-point average is required for all courses in the major. You can declare the major using the major/minor tool.
Transfer students should see the USP student affairs advisor to determine whether courses taken elsewhere satisfy USP major requirements. No more than one special studies course, USP 198, USP 199, will be accepted to count towards the major. 
Full Curriculum for the USP Major
USP Senior Sequence
In their senior year, all students must complete the senior sequence, USP 186 in the fall, and USP 187 in the winter. These courses must be taken in order. The sequence develops each students ability to:
critically review literature research 
formulate interesting research questions of their own 
design an original research project and investigative strategy 
conduct research 
analyze, interpret, and write up findings 
The final requirement of USP 186 is a research proposal. By the end of USP 187 each student must complete a Senior Research Project.
Because the senior sequence includes an internship, no other internship of field placement will be counted towards the major.
Senior Honors Seminar
Candidates for Honors in Urban Studies and Planning are required to take USP 190 Senior Honors Seminar, in which students write a senior thesis. Prerequisites for enrolling in USP 190 are a minimum 3.5 GPA in the major, senior standing, USP 186 and USP 187, and consent of instructor. Majors who plan to enroll in USP 190 must declare their intent fall quarter in USP 186.