About the USP Student Representative Program
USP Student Representatives act as liaisons between students and faculty/staff, and act as resources to the USP undergrad community. 
Contact: uspredreps@gmail.com
Student Reps Peer Advising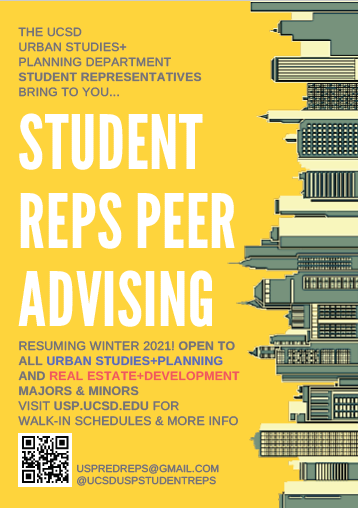 Student Rep Spotlights
Faculty Spotlights
USP has a wonderful group of faculty, many of whom are deeply involved on campus, have won distinguished teaching awards, and work on some amazing research projects. The USP Student Representatives interview the USP faculty to learn more about them and their research.
Student Spotlights
Our students are leaders both on and off campus and the USP Student Representatives have started interviewing our students to learn more about the work they are doing both in and out of the classroom. Learn more about their internships, senior projects, as well as their involvement in student and professional organizations.
Join the Student Representatives!
Are you interested in being a student leader in the Department of Urban Studies and Planning? Are you interested in mentorship and peer advising? Join the USP Student Reps! Recruitment for the 2019-2020 year is now closed. Look out for recruitment e-mails in Spring of 2020!
Meet the Student Reps!
      

 

 

 

 

 

 

 

Samaya Elder

Pronouns: She/Her/Hers

Major: Urban Studies and Planning

Favorite USP Course: USP 124

Fun Fact: "I love to cook!"

 

 

 

 

 

 

Kristine Shen

Pronouns: She/Her/Hers

Major: Real Estate and Development 

Favorite USP Course: USP 15

Fun Fact: "I love playing tennis."
 

Katharina Shultz 

Pronouns:She/Her/Hers

Favorite USP Course: USP 15

Fun Fact: " I like fashion, beaches in the morning, coffee, and listening to music in the car with my friends!"

 

Anna Dan

Pronouns:She/Her/Hers

Major: Urban Studies and Planning

Minor: Environmental Studies

Favorite USP Course: USP 3

Fun Fact: "I love experimenting with upcycling and zero waste."
 

Harry Liner

Major: Urban Studies and Planning

Minor(s): Chinese Studies & Speculative Design

Favorite USP Course: USP 1

Fun Fact: "My favorite Real Housewives franchise is New York City!"