USP Courses
Below is a list of courses offered at UC San Diego that could be taken to fulfill the requirements for the USP major and minor and the RED major and minor. If you have questons, please contact USP.
Course Syllabi
With the consent of the instructor, USP posts syllabi from our courses at the link below. Instructors are not required to consent to the posting of their syllabi so the list may not be complete.
Course Evaluations
In addition to CAPE, USP evaluates its courses and instructors internally. You can reveiw past evaluations at the link below.
Course Pre-authorization
Some courses may have prerequisites or restrictions. If you are interested in taking a USP course but do not meet the pre-requisites, you can request pre-authorization using the Enrollment Authorization System (EASy).
New & Updated Courses for Spring 2020
USP 177B. Advanced Urban Design
Prerequisites: USP 177, USP 177A, or USP 179 (you may have taken USP177A with Profs. Peerson, Velasco or Wright to qualify). 
This is an advanced studio-based course that will examine a redevelopment site in City Heights. City Heights is one of the most culturally diverse and historically important communities is San Diego. 82% of residents are renters, children and families live in dense urban housing conditions, and 72 languages are spoken in this community. 
Students will work in teams and individually to propose a mixed-use housing project with a significant affordable housing component, community-use space, commercial retail and shared public space/outdoor areas.
 

Working in partnership with the City Heights Development Corporation, students will create a vision for this project - focused on placemaking and the public realm.  
The studio will culminate with student ideas showcased at a community event and Pop-Up in City Heights to be held Saturday, May 30, 2020. During the event students will solicit community feedback to gain valuable input on proposed development programs, building massing diagrams and urban design design guidelines. 
All majors are welcome and
.
 

This is a unique opportunity to expand your skills, learn new skills (using SketchUp will be part of the studio) and gain advanced urban design knowledge. 
USP 189 (A00): Climate Action Planning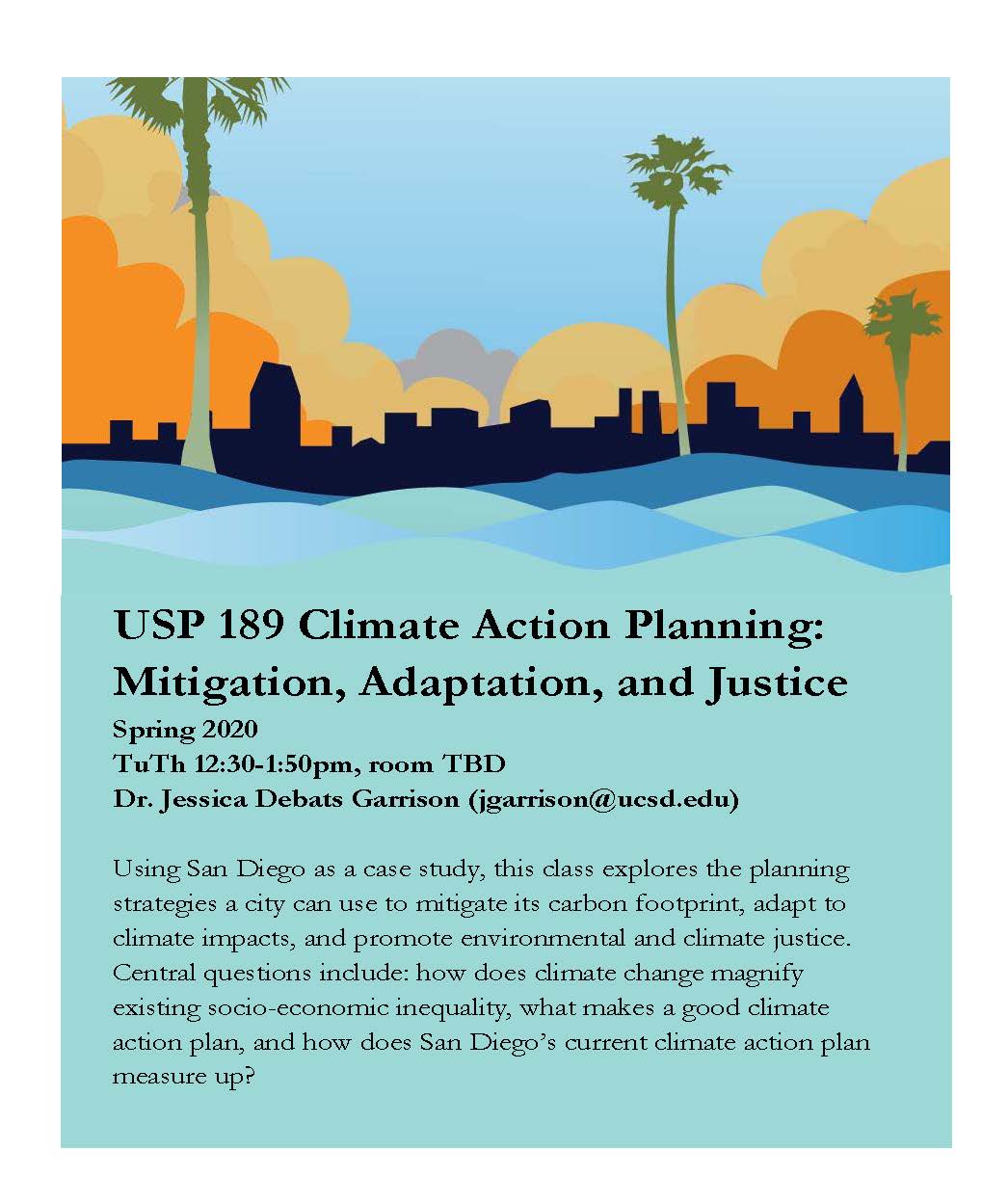 USP 189 (B00): Urban Resilience