USP Department Student Team Wins the 2020 NAIOP University Challenge
A team of six students from the USP Department at UC San Diego competed in and won the NAIOP University Challenge on Thursday, April 23, 2020. The team was captained by Sable Beltran, a senior majoring in USP, and included Chris Giammanco (RED), Xinyi Huang (USP), Erik Mumm (USP), Kacie Ting (RED) and Dominic Sistena (USP). The team was coached by three USP Department faculty members: Greg Edwards, Sue Peerson, AICP, and Dr. Mirle Rabinowitz Bussell, Academic Director for the RED major.

This was the 10th year of the competition in San Diego and UC San Diego's 9th year as a participant. This was UC San Diego's third victory. 
NAIOP (the Commercial Real Estate Development Association) is one of North America's leading commercial real estate organizations. It provides advocacy, education, mentoring, student scholarships, business and networking opportunities. It has local chapters across the country including one here in San Diego, NAIOP San Diego. 
NAIOP chapters across the country sponsor an annual competition, the University Challenge, to provide students with an opportunity to compete in a head-to-head real estate competition. Here in San Diego, teams from UC San Diego, the University of San Diego and San Diego State University compete to develop the highest and best use for a real, development site in San Diego County. Teams address issues such as financing, sustainable development, market analysis, affordable housing, site design, transit-oriented development, community benefit, entitlements, feasibility and investment returns. A judging panel of nine senior level commercial real estate professionals serves as a mock investment committee. Each team must defend their development proposal privately in front of the committee and then present it to an audience of real estate professionals, industry leaders, university faculty members and fellow students.
The 2020 NAIOP University Challenge was unique due to the impact of COVID-19. The student teams worked tirelessly to research and assemble their proposals to prepare for the final presentations, but midway through the competition they had to switch to remote work. The private Q & A sessions  between each team and the judges were done via Zoom, and the final presentations were also done on Zoom. Despite the obstacles this presented, the three student teams prevailed and produced outstanding work.
The case study for the 2020 NAIOP University Challenge was Tecolote Village, the site of the future Tecolote Trolley Station located at the intersection of West Morena Boulevard and Tecolote Road , east of I-5. This is one of the new trolley stops for the UC San Diego Blue Line Trolley, a 15.4 mile light rail extension that will connect UC San Diego to the rest of the region's transportation network when it is operational in 2021. 
The 20.5 acre site is ideal for transit-oriented development due to its prime location in the region and its adjacency to the trolley line extension. Each student team determined its own mix of land uses, but the teams were also required to include 75,000 ft
2
of office, 100,000 ft
2
of storage and 80,000 ft
2
of retail. While the site lent itself to increased density and housing development, other critical considerations included the overall integration of the site into the surrounding Linda Vista and Clairemont Mesa communities.
The UC San Diego team won the competition with their proposal for Andante at the Bay.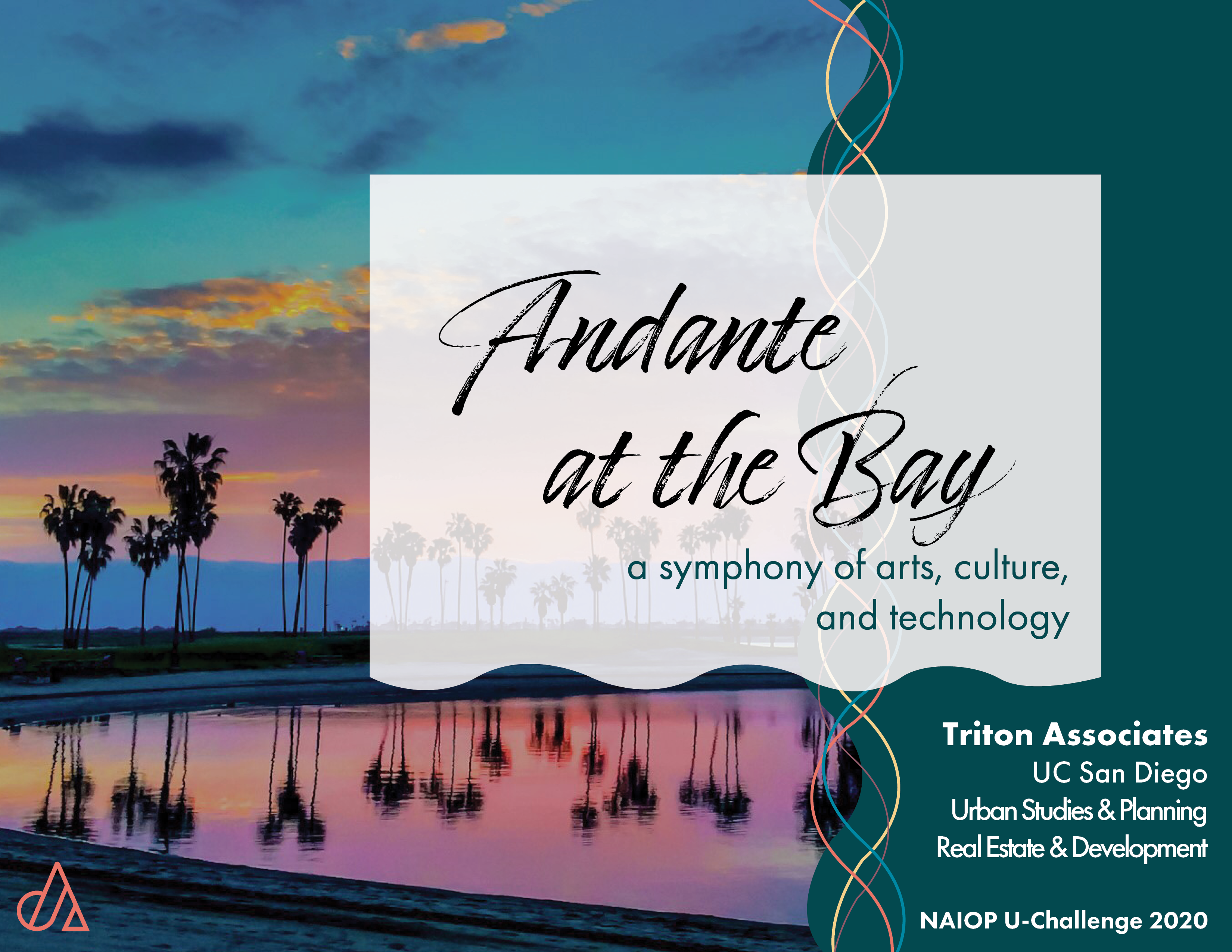 Andante is a musical term defined as "a tempo at a walking pace," and this served as the inspiration for the team's pedestrian-friendly, walkable village with a music venue and public gathering space  at its core. The development vision was guided by the team's desire to create a STEAM hub that merged Science, Technology, Education, Art, and Music. 
The team's proposal for the highest and best use of the site included four different residential typologies including affordable housing, co-living, student housing and well-amenitized multi-family housing, an office center (The Innovation Terrace) with lab space for UC San Diego Health, a retail-oriented promenade through the center of the site, a self-storage facility aimed towards artists and artisans to align with the adjacent Design District in the Morena Boulevard Corridor. 

The team's proposal is financially feasible with a stabilized value of $973M and total costs of $630M yielding a residual land value of approximately $109M or $123/ft2. It offers investors a stabilized yield on cost of 6.0% and a leveraged IRR of 18.1% with an average cash-on-cash return of 11.5%.
Triton Associates                                                                                  
Sable Beltran (Lead)                                                                               
Chris Giammanco                                                                                   
Xinyi Huang                                                                                              
Erik Mumm                                                                                                
Dominic Sistena                                                                                      
Kacie Ting                                       
Faculty Advisors                                                                                            
Susan Peerson, AICP                                                                             
Mirle Rabinowitz Bussell, Ph.D.                                                            
Gregory Edwards                                                                              
The team wishes to thank the many individuals who supported the competition and provided critical mentoring and guidance. 
Industry Advisors                                                                                   Architects
Zach Adams, Brookfield Properties                                                     Daniel Moskop
Yoshiko Adler, CItyLift Parking                                                              Devin Murphy
Steve Bossi, Atlantis Group                                                                   Jamie Intervalo
Marc Brutten, Westcore/Brutten Global                                              Matt Winter     
Wyatt Capbell, NorthMarq Capital                                                        LPA Inc.  
Don Clauson, Strat Properties                                                              
Dan Epstein, ConAm Management                                                      Alumni                                                 
Yehudi Gaffen, Gafcon                                                                           Marc Brutten, Westcore Properties   
Aaron Goldstein, Brookfield Properties                                               Paul Gherini, Protea Properties    
Jeff Graham, UC San Diego                                                                   Daniel Amar, ConAM Management 
Julie Beth Hinds, UC San Diego
Brad Jones, CBRE                                                                                   Special Thanks
Paul Marra, Keyser Marston                                                                  Paul Marra, Keyser-Marston
Robert Martinez, London Moeder Advisors                                        Dene-Oliver, Brookfield Properties
Nathan Moeder, London Moeder Advisors                                         Robert Campbell, UC San Diego Rady 
Allen Nevin, Xpera Group 
Mike Novkov, Cushman & Wakefield                                                   Assigned Advisors 
Jackie Oh, Community HousingWorks                                               Mark McGovern
Dene Oliver, Brookfield Residential                                                      Luis Foglio, Suffolk Construction      
Steve Pomerenke, Alexandria Real Estate                                         Dave Davis, DF Davis Real Estate
Michael Prinz, City of San Diego
Sue Reynolds, Community Housing Works                                       NAIOP Event Team
Dan Ryan, Alexandria Real Estate Equitiy                                          Karen Burges, NAIOP Executive Director
Ted Shaw, Atantis Group                                                                      Courtney Moore, NAIOP Program Director            
Michael Stark, Broofield Residential                                                  Gary Katz, Presidio Properties
John Turner, Gafcon                                                                             Chris Pascale, CBRE
Diego Velasco, UC San Diego                                                             Charlie Abdi, Finest City Realty
Mary Walshok, UC San DIego Extension                                           Kevin Heinly, Gensler
Brad Williams, Floke & Avoyer                                                                                  
NAIOP University Challenge Judges
Kelly Moden, Community HousingWorks
Perry Dealy, Dealy Development
Zack Holderman, JLL
Mike McNerney, LOWE
Dennis Cruzan, Cruzan
Ben Badiee, Badiee Development
Mike Mahoney, Ryan Companies
Colton Sudberry, Sudberry Properties
Casey Brown, Casey Brown Company
.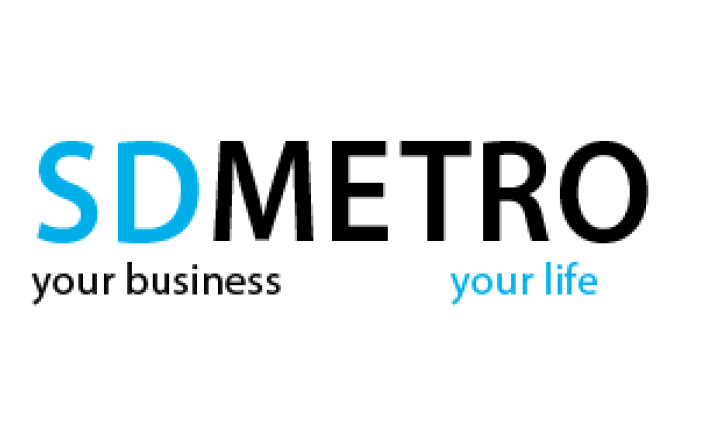 SD METRO ARTICLE
UC San Diego team takes top prize in NAIOP's 10th annual University Challenge.
NAIOP UNIVERSITY CHALLENGE 2020
Watch the 2020 University Challenge presentations and ceremony.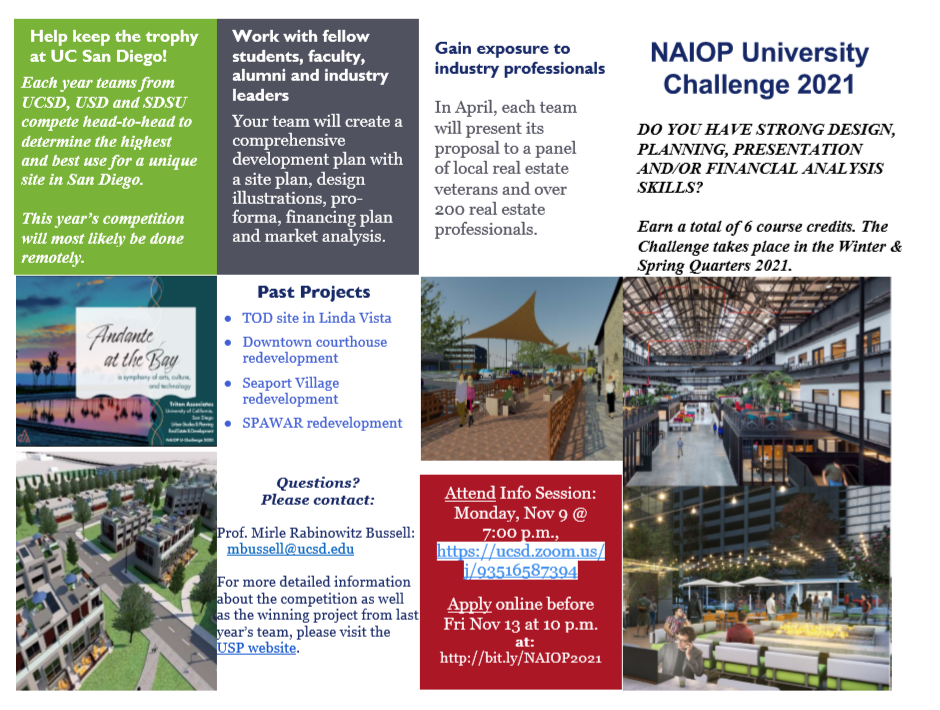 NAIOP University Challenge (2021)
The NAIOP University Real Estate Challenge will take place from January - April 2021. UC San Diego will enter one team comprised of six students.