USP Colloquium Series: Architecture and the Housing Question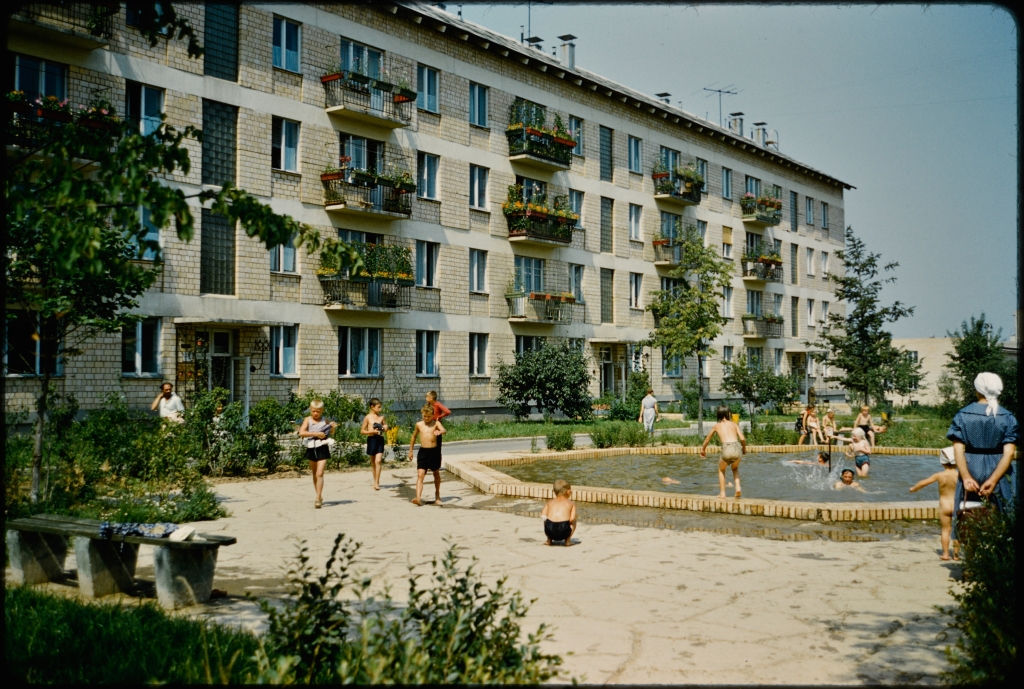 Picture caption: A splash pool in Novyie Cheriomushki. 1964 © John Reps Papers, #15-2-1101. Division of Rare and Manuscript Collections, Cornell University Library
Join the UCSD Department of Urban Studies and Planning for this event in the USP Colloquium Series, Architecture and the Housing Question. This hybrid event will take place in-person (USP Studio) and via zoom, on Wednesday, March 2, 12-1:30pm (PT).
Abstract
In this colloquium Juliana Maxim and Can Bilsel will discuss their forthcoming book, Architecture and the Housing Question. This book is an outcome of a collaborative project that began in 2015 when the editors convened an international conference in San Diego. 
Architecture and the Housing Question examines how the design and provision of housing around the world have become central both to competing political projects and to the architecture profession. How have architects acting as housing experts helped alleviate or enforce class, race, and gender inequality? What are the disciplinary implications of taking on shelter for the multitude as an architectural assignment and responsibility? The book features essays in the historiography of architecture and the housing question, and a collection of historical case studies. The thematic organization of the collection, interrogating housing expertise, the state apparatus, segregation and colonialism, highlights the methodological questions that underpin its international outlook.
Routledge link: 
https://www.routledge.com/Architecture-and-the-Housing-Question/Bilsel-Maxim/p/book/9780815396024
Graham Foundation link: http://grahamfoundation.org/grantees/5744-architecture-and-the-housing-question
Bio
Juliana Maxim, Associate Professor and Chair of the Department of Art, Architecture and Art History at the University of San Diego, is an art and architectural historian whose work focuses on the history of modern aesthetic practices – from photography to urbanism – under the communist, centralized states of the Soviet Bloc. She completed her PhD dissertation in the History, Theory and Criticism of Architecture at MIT in 2006. Maxim was a recipient of the National Council for East European and Eurasian Research Award (2008-2010) and was an American Council for Learned Societies post-doctoral fellow (2012-2013). Her book titled The Socialist Life of Modern Architecture: Bucharest, 1955-1965 (Routledge), explores the remarkably intense and multifaceted architectural activity in postwar Romania and the mechanisms through which architecture was invested with political meaning.
Can Bilsel is Professor at the University of San Diego where he served as Chair of the Department of Art, Architecture and Art History, and the founding Director of the Architecture Program. He holds a PhD from Princeton University, SMArchS from MIT, and a B.Arch from METU in Ankara, Turkey. Bilsel has written and lectured on modern architecture and archaeology museums, and on the changing political contexts and audiences of architectural conservation. His publications include Antiquity on Display: Regimes of the Authentic in Berlin's Pergamon Museum (Oxford, 2012), "Crisis in Conservation: Istanbul's Gezi Park Between Restoration and Resistance" (2017), "Our Anatolia: Organicism and the Making of the Humanist Culture in Turkey," (2007). He is currently working on a series of essays on urban protests, resistance and memorialization.