2023 UC San Diego NAIOP Team
A team of eight students from the Urban Studies and Planning Department at UC San Diego competed in and won the annual NAIOP San Diego University Challenge on Thursday, May 4, 2023. This was the 13th year of the competition in San Diego and UC San Diego's 12th year as a participant. This was UC San Diego's fifth victory. 
For more about the competition and our team's winning proposal and presentation, scroll through this web page.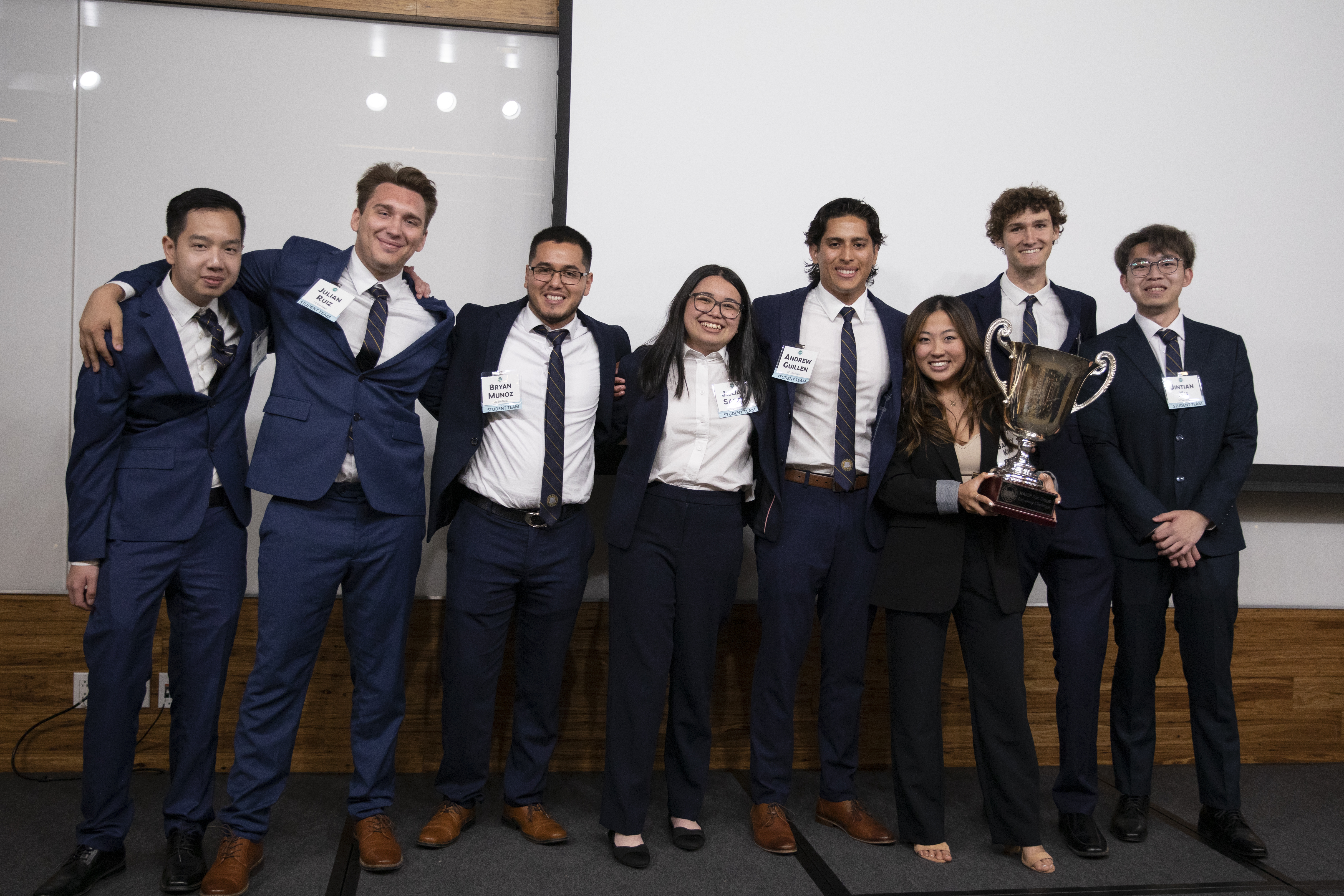 Image: 2023 UC San Diego NAIOP Team holding the NAIOP University Challenge trophy. Pictured from left to right: Thong To, Julian Ruiz, Bryan Fernandez-Muñoz, Jillian Sasaki, Andrew Guillen, Bailey Kim, Alexander Patterson, and Jintian Xu.
NAIOP (the Commercial Real Estate Development Association) is one of North America's leading commercial real estate organizations. It provides advocacy, education, mentoring, student scholarships, business and networking opportunities. It has local chapters across the country including one here in San Diego, NAIOP San Diego. 
NAIOP chapters across the country sponsor an annual competition, the University Challenge, to provide students with an opportunity to compete in a head-to-head real estate competition. Here in San Diego, teams from UC San Diego, the University of San Diego and San Diego State University compete to develop the highest and best use for an actual development site in San Diego County. Teams address issues such as financing, sustainable development, market analysis, affordable housing, site design, transit-oriented development, community benefit, entitlements, feasibility and investment returns. A judging panel of nine senior level commercial real estate professionals serves as a mock investment committee. Each team must defend their development proposal privately in front of the committee and then present it to an audience of real estate professionals, industry leaders, university faculty members and fellow students.
The case study for the 2023 NAIOP University Challenge was Westfield Plaza Bonita in National City. Nestled between the communities of Chula Vista and Bonita, at the intersection of I-805 and SR-54, the site is strategically positioned for a re-development that will reach beyond the South Bay.

NAIOP San Diego presented the unique challenge of redeveloping only 4 of the 15 parcels comprising Westfield Plaza Bonita Mall and ensuring that the team's development integrates the existing mall.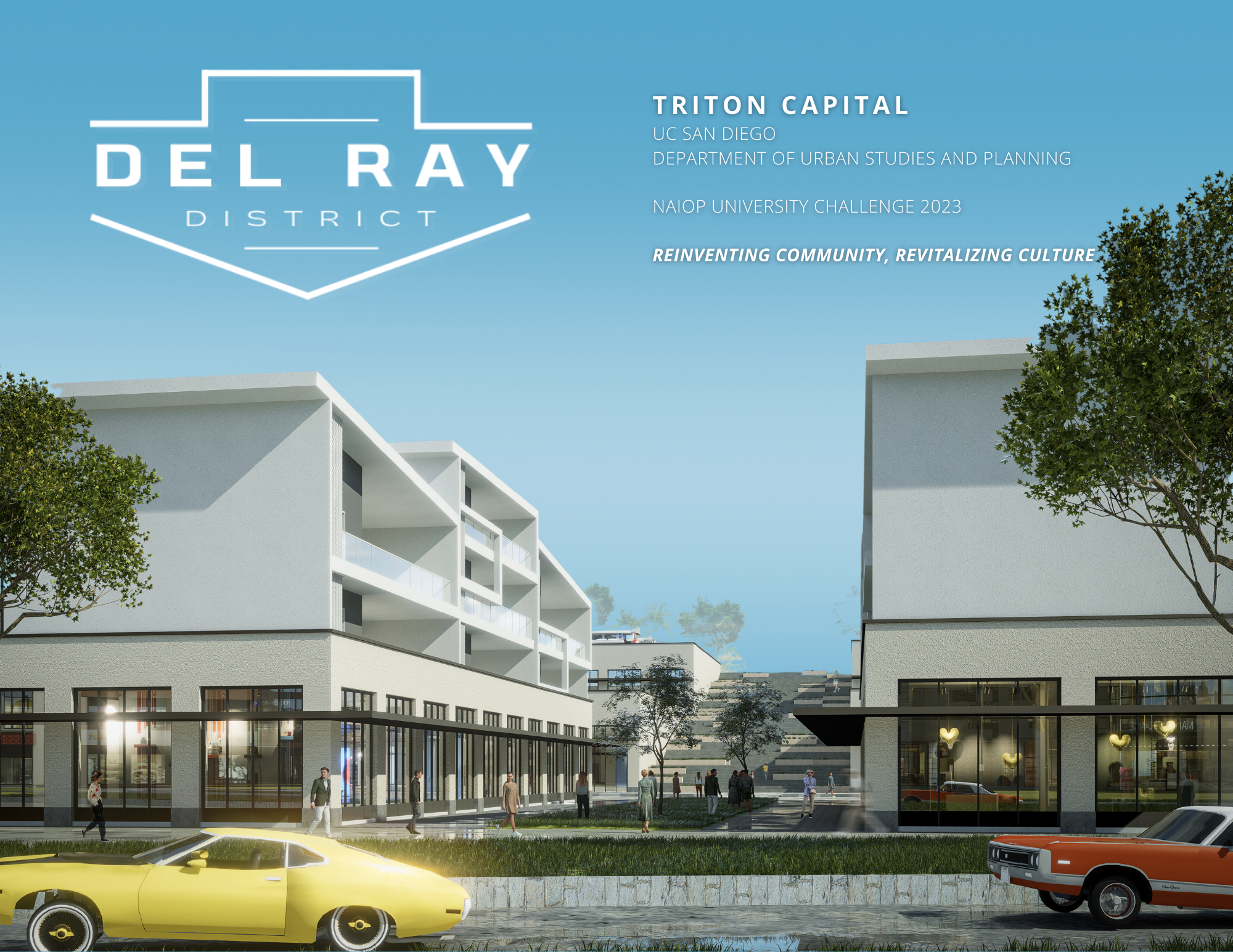 The UC San Diego team's winning proposal was Del Ray District which offered a vibrant mixed-use development that highlights entertainment and a collaborative environment through thoughtful planning and design. By utilizing the unique and diverse history of South Bay, the site invites residents and visitors to experience a seamless blend of community and cultural engagement. 
Del Ray District not only integrates the existing Plaza Bonita Mall, but also injects the vibrant culture of the surrounding communities into the development. The site fosters a healthy and active lifestyle by utilizing a variety of retail and entertainment tenants alongside abundant open space. Del Ray District provides a boost to the economic vitality of the mall and community by drawing visitors from outside the region with its unique tenants, appealing design, and satisfying experiences. 
Del Ray District revives Plaza Bonita with an activated open space spanning several floors at the heart of the site; 345,000 SF of residential with a mix of affordable and market rate housing; a 35,000 SF market hall featuring local restaurants and businesses; 30,000 SF of UC San Diego Extended Studies; 15,000 SF of medical office; 40,000 SF of storage for commercial tenants; 140,000 SF of Bass Pro Shops to anchor the site and draw a consumer base beyond the South Bay. 
The team's proposal is financially feasible with a stabilized value of a residual land value of $70,000,000, a project level 10-year levered IRR of 22%, a total net profit of about $237 million, a stabilized yield on cost of about 7%, and an equity multiple of about 4.02. The project offers a 16% investor IRR.
Team Name: TRITON CAPITAL
Team Members:
Bailey Kim - Co-Captain
Andrew Guillen - Co-Captain
Julian Ruiz
Thong To
Bryan Fernandez-Muñoz
Alexander Patterson
Jillian Sasaki
Jintian Xu
The team wishes to thank the many individuals who supported the competition and provided critical mentoring and guidance. 
FACULTY ADVISORS 
Paul Gherini, Lead Faculty Advisor 
Mirle Bussell, Ph.D, UC San Diego 
Susan Peerson, FAICP, UC San Diego 
Michael Shenkman, UC San Diego 
Robert Campbell, UC San Diego 
ARCHITECTS 
Greg McClure, AIA, Delawie 
Michael McGuire, Delawie 
Holly Hersey, Delawie 
Christopher Mok, Delawie 
CONTRACTOR 
Jamie Frye, Sundt Construction 
INDUSTRY ADVISORS 
Ron Morrison, Mayor of National City 
Pedro Garcia, Economic Development Manager of National City
Michael Hansen, City Forward 
Dave Williams, Caruso 
Joe Wojdowski, Enduring Real Estate 
Carlos Aguirre, Housing Authority of National City
Hugo Villar, Dean of UC San Diego, Division of Extended Studies
Todd Miller, UC San Diego, Division of Extended Studies
Don Moser, Retail Insite 
Dene Oliver, OliverBuchanan Group 
Marc Brutten, Brixton Capital 
Michael Tactay, Keyser Marston Associates 
Paul Marra, Keyser Marston Associates 
Steve Krajewski, Senior Director of Real Estate at Bass Pro Shops
John Boarman, Linscott, Law & Greenspan, Engineers
Mark McGovern, CBRE, Debt & Structured Finance
Joe Zurek, Cushman & Wakefield
Peter Chun, Lippincott 
Kavona McMurry, CoStar
Juli Beth Hinds, UC San Diego
Eric Li, Brixton Capital 
Justin Long, Brixton Capital
Mark Mandala, Brixton Capital
Patric Krall, Brixton Capital
David Nowak, Brixton Capital 
JUDGING PANEL 
Kelly Moden 
Mike McNearney 
Jason Wood 
Kevin Heinly 
Ben Badiee 
Dan Ryan 
Mike Mahoney 
Bryan Clark 
Dennis Cruzan 
Casey Brown