Urban Changemakers (formerly USP club)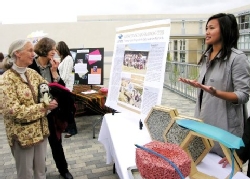 The Urban Changemakers student organization encompasses and builds on the former USP Club.  Our mission is to create a more vibrant, inclusive, welcoming, equitable, sustainable and biophilic campus and society. 
We host two kinds of events:
those related to the planning profession and all of its intersections (public and global health, engineering, architecture, environmental systems, education, politics, culture, economics, etc) - these might include networking with faculty, alumni and professionals, graduate school panels, portfolio workshops, lectures and roundtables of common interest.  
"placemaking" projects on and off campus that bring people together and create spaces that foster health, social interaction, solidarity, play, learning, delight, even democracy! 
Come join a great group of fellow students!
The Urban Changemakers  is a student club affiliated with UCSD Associated Students.
First GBM of the new Urban Changemakers Club is on November 14, 2017 from 5-6pm in SSB 107.  There will be pizza and conversation about activities in the coming year!